Professor Farfanoogan never had a chance.
Inventor of something called the "elixir of life," Farfanoogan was done in after he refused to sell the potion to a motivated buyer who then made the Harvard instructor an offer he couldn't refuse. And Nacogdoches High School students in Roya Dinbali's Forensics class were assigned to examine the crime scene's aftermath.
The fictional murder case provides Dinbali's students with a chance to closely scrutinize a crime scene (this one was in an upstairs room in the NHS library), produce photos and collect evidence while creating an accurate sketch for use during an investigation.
The items collected and the documents created would then be used in a courtroom setting if the case went to trial, placing a priority on accurate work by the students, Dinbali said.
Earlier this month, students were closely inspecting the room, making notes and taking photos, with the understanding that just about everything in there could provide vital information in creating a case to go to trial.
The forensics class at NHS can be taken by seniors pursuing a law enforcement endorsement or those requiring a fourth science credit. And while only a handful of students might be interested in pursuing forensic science after graduation, Dinbali said, the class is designed "to develop intellectual thinking skills."
Dinbali also tries to make the investigation "a little fun" so students aren't negatively influenced by the serious nature of what's taking place. But that doesn't take away from the importance of the work and the need to exhibit an accurate representation of the crime scene, she said.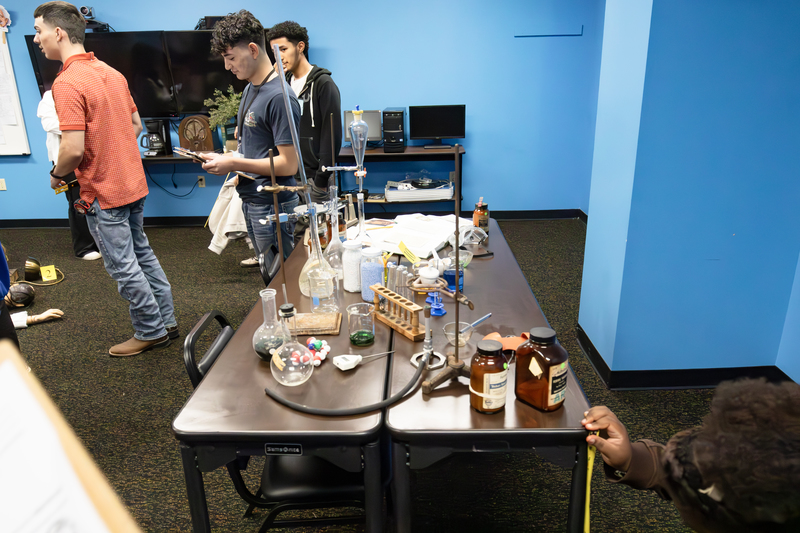 NISD Communications